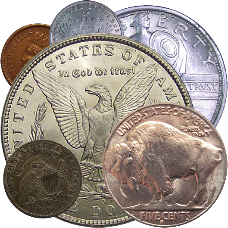 We ask that you keep your WANT TO BUY and WANT TO SELL notices under 75 words, list only your first name and first letter of your last name. and post no more than two notices per month (see the attached examples). Your notices will run for one month unless you ask to take them down or renew them. There is no charge for this service and the club won't take any commission. However, we do expect that members will abide by our club Code of Ethics that is posted at the bottom of the HVNS Application page of our web site.
Single Lincoln Cents available. Click HERE
Contact Al Raddi at alraddi@aol.com or 248-505-3690
Silver denarius of Julia Domna. 217 AD. $50.
Contact Reg N at jagody48@gmail.com
Antoninianus (double denarius) of Gordian III. 238-244 AD.
Ex Harlan Berk Sale 108. RIC 39. $60.